Project Background:
IJM is the largest international anti-slavery organization in the world, with a global team of lawyers, investigators, social workers, community activists and other professionals in nearly 20 communities in the developing world. After 20 years of anti-slavery work around the world, IJM wanted to celebrate with Liberate—a momentous gathering to equip thousands of passionate people around the world in ending slavery.
At the end of the two-day event, attendees were asked to mobilize people in their hometown communities to join the fight to end cybersex trafficking by throwing a Rescue Party. A Rescue Party is an intimate gathering where hosts invite friends and family to hear the powerful story of Joy's rescue from cybersex trafficking, and urge party attendees to join the rescue movement by partnering with IJM financially.
Anyone at Liberate who was moved to host a Rescue Party was given a Rescue Party Kit to equip them in hosting a great event.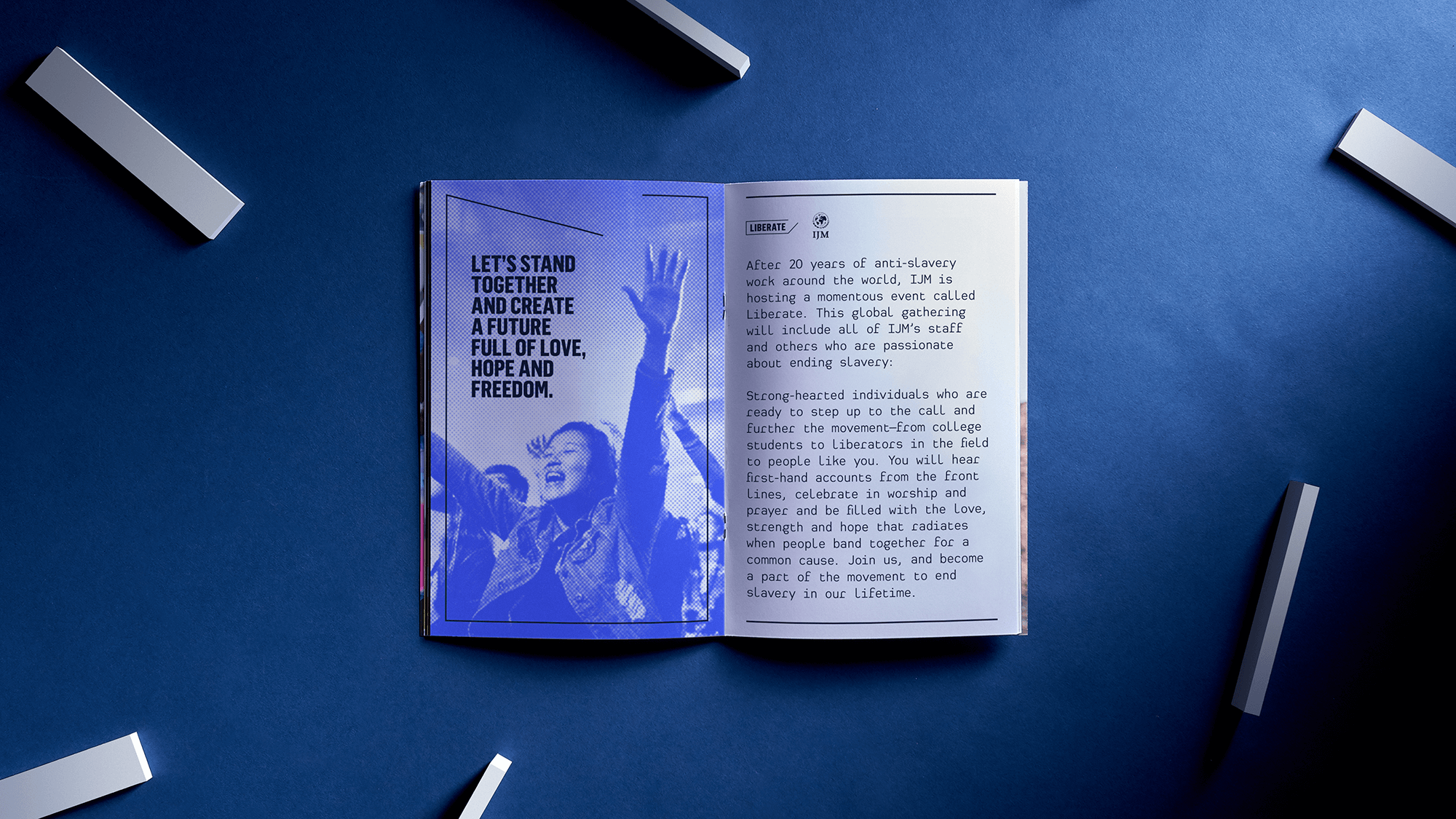 Photography by Matchstic
Content Strategy + Writing provided for:
Rescue Party Kit (Inside + outside of box)

Host Magazine (20 page guide to throwing a great Rescue Party, located in Rescue Party Kit)

Response Device (Sign-up form for Rescue Party attendees to become a Freedom Partner with IJM)

Microsite for Rescue Party hosts (Online version of Host Magazine + additional resources)

3 Email Campaigns (For those who signed up to become a Rescue Party host, a follow-up campaign to those who did not sign up, and a follow-up series to those who attended Rescue Parties)
Host Magazine Writing Samples:
The Power of a Rescue Party
You've learned how violence is enslaving people around the world, and you've answered the call to become a champion for protecting the poor. Hosting a Rescue Party is a powerful next step in equipping and rallying your community to join you now in the fight to end slavery.
What matters most is you—your passion, enthusiasm and willingness to open your home will make a lasting impact on lives around the world.
What is a Rescue Party?
A Rescue Party is a simple way for you to invite friends, family and coworkers into becoming passionate champions of justice with you, providing tangible next steps in their own journeys to make a lasting impact. Through the power of film, you will share Joy's story and invite your friends to take meaningful action in fueling the work of rescue and restoration for the poor around the world.
A Single Step
When Brenda Birmann first heard of IJM in 1998, she knew she had to do something to join the pursuit of justice for the poor and oppressed—but what? Brenda was a grad school student with little desire to become involved in political advocacy, and no calling to law or social work. Feeling as though it was all she could offer, Brenda took a single step to become an IJM Prayer Partner.
Twenty years later, Brenda is now leading her community as an Advocacy Coordinator on the IJM Boston Volunteer Team.
What began as a simple decision to pray evolved into critical relationship-building work with local elected leaders to gain support for policies that can end slavery. Because of faithful commitments like hers around the world, IJM has brought relief to more than 45,000 people experiencing slavery and other violence, and has worked with local authorities to convict more than 1,400 traffickers in the last twenty years.
Response Device Writing Sample:
Now is the best time to join the fight.
As a Freedom Partner, you can send rescue for children and families at a moment's notice, stand with them as they rebuild their lives in freedom, and see their abusers in court—no matter how long justice takes.
For those like Joy who are still waiting, $24 a month ensures rescue can come 24 hours a day.
At International Justice Mission, we've been on the front lines of protecting the poor from everyday violence for the last 20 years. We know where people are enslaved and we have a plan to rescue them. With your help, we can throw slave owners and traffickers in jail, rescue those whose lives have been stolen, and prove to the world every human life matters. Together, we can end to slavery in our lifetime.
As a Freedom Partner, you can help IJM:
● Carry out Investigations
● Send us on Rescue Operations
● Provide Aftercare for Survivors
Will you join us today?
Email Campaign Writing Sample:
Subject Line: You've taken the first step towards ending slavery!
Dear [First Name],
You've answered the call to become a champion for protecting the poor from slavery around the world-- now it's time to invite your community to join you. Hosting a Rescue Party is a powerful step in rallying others to make a lasting impact. We want to make sure you feel prepared for your party, and for sharing what you're passionate about!
From digital downloads to a Party Planning Checklist, we've compiled Rescue Party resources to make sure you have everything you need to host a great event.
GET RESCUE PARTY RESOURCES [button that links to microsite]
Your Rescue Party coaches are also here to help. Don't hesitate to reach out to your coach with any questions you may have, or to share how your planning is going.
You're part of a powerful movement taking place around the world. Together we're an unstoppable force in ending slavery and violence!